As a sales recruitment agency we know all sales leads are not the same. You can have thousands of sales leads, but it doesn't mean you are going to convert more. The number of leads is not what is important. It is the quality of leads you can find.
Prashant Kaw from HubSpot explains:
"The reality is fewer, better quality leads (i.e., sales ready leads) will help sales reps be more productive as they will have more relevant conversations and in general be able to help solve genuine problems faced by their leads and prospects. Getting the highest quality leads into the sales team's hands produces a higher yield on marketing leads and overall higher ROI."
Obviously, all sales professionals want the best quality leads possible. Here are 4 actions you can take to spot quality leads:
Define What a Sales Lead Is to You
There is a specific set of characteristics that will make one lead better than another. What these factors are will depend on your company, what you are selling and many other considerations. The first step to getting more quality sales leads is to define what a quality sales lead is for your organization. Be specific about how you define leads and the types of leads that are worth pursuing.
Our sales recruiters recommend creating buyer personas to define the different types of customers you have and the unique characteristics of each group.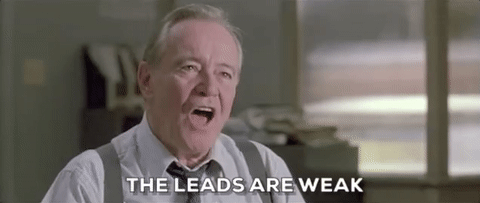 Ask Sales Lead Qualification Questions
Whether it is through an intake form, application, or as part of a conversation with a potential lead, it's very important to ask the right types of questions in order to effectively spot quality sales leads. Ask questions about purchase time frames, biggest challenges, size of purchase/solution, and other topics you deem important to learn more about a prospect's situation. Sales qualified leads!
Develop a Sales Lead Quality Scorecard
When your sales team clearly understands the difference between a good and bad lead, they will have a better idea of where to focus their efforts. They'll spend less time chasing dead-end leads and more time nurturing leads that are more likely to convert into a sale.
Develop a process your sales reps can use to score each lead they receive. Use certain information from the data you can collect from each lead to assign a score. This is an effective way to qualify leads before you engage and start the sales process. It will save you a lot of time and effort. How you score leads can be as simple as having a 1 – 10 scale. Find what works for your company.
Engage Your Best Sales Leads First
At any time, a sales rep could have dozens or hundreds of potential leads to manage. Focus on your best sales leads first. This is where you should be spending the bulk of your efforts. Engage the customers whom you believe you have the best chance to close. Recruiters at our sales recruitment agency recommend this strategy as it's a good way to stay motivated.
Once you've exhausted your list of top sales leads, spend time nurturing the other ones. Over time, mediocre leads can warm up and become a great opportunity. Don't discount the fact that some sales leads just take more time to develop to become a worthwhile opportunity to pursue.
Read More From Our Sales Recruiting Blog
5 Ways to Increase Sales During a Pandemic
How a Positive Mindset Can Make You a Better Salesperson
7 Creative Ways to Close More Deals During the COVID Era